Additional roll CAS limiting is required to reduce the roll/yaw coupling for negative angles of attack, and at large positive angles, to minimize the adverse yaw. This provides an equivalent to the "aileron washout" function of the mechanical control system which was discussed in an earlier article. The angle-of-attack limiting is subtracted from the airspeed schedule as indicated in Figure 4.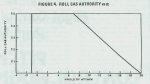 Fig. #3: Roll CAS Authority vs α
No roll CAS is desired at angles of attack above 20 degrees. This prevents the adding of pro-spin controls through uncommanded pilot-induced CAS inputs, and roll damper inputs, at the higher angles of attack. The angle-of-attack schedule is switched to a fixed reference at wheel spinup to assure that full roll CAS authority is available for adequate crosswind control during landing rollout.
Failure Detection - As in the yaw CAS, there are a number of ways in which the system can detect and react to system abnormalities -
• Like the yaw channel, the Roll CAS sensors must track each other by preset limits. When these limits have been exceeded by any sensor, or if a failure occurs in the roll CAS computation electronics, roll CAS shuts down.
• Roll CAS also shuts down, and remains down, if yaw CAS fails or is turned off by the pilot. This assures that no adverse roll/yaw coupling will occur.
• Since roll and pitch CAS share the stabilator servo actuators, roll CAS will shut down if the pitch CAS fails. However, if there has been no failure of the roll computation, and if the stabilator servo actuators are still operative, the roll CAS can be reset and will operate normally. This is a pretty good troubleshooting aid. If a failure of pitch and roll CAS occurs, but roll can be reset, it is unlikely that the stabilator actuators, or the wiring to the actuators, are at fault. In this case, check the pitch CAS computation circuitry and the sensors.
• The primary means of detecting failures within the roll and pitch CAS servo loops consists of monitoring the level of error of a differential pressure sensor (DPS) hydraulic ram (one in each stabilator actuator). As long as the servo signals are equal, the DPS error is zero and the system will operate normally. Failure of a servo valve, or electrical failure of an actuator LVDT, will drive one or the other DPS ram hardover. As a result, roll and pitch CAS will shut down. A lag network is employed to filter the DPS error signal being monitored, minimizing nuisance shutdown. With the DPS failure detection scheme just described, a fast-operating, high-authority CAS can be employed with an acceptable level of failure transients for hardover servo valves, or in the event an actuator LVDT output is lost.
This presentation of the F-15 Control Augmentation System will be continued in our next issue of the DIGEST as we take a look at the pitch CAS.