My friend Dave is both a god of both graphics and avian photography.  He'll be writing the software that will show the various screens on the AWG-20 PACS or Programmable Armament Control Set (also known as the MPCD or Multi-Purpose Color Display)
Below is a test display he wrote for me and I've put my "spare" MPCD button collar frame around it so you can understand what it's all about. 🙂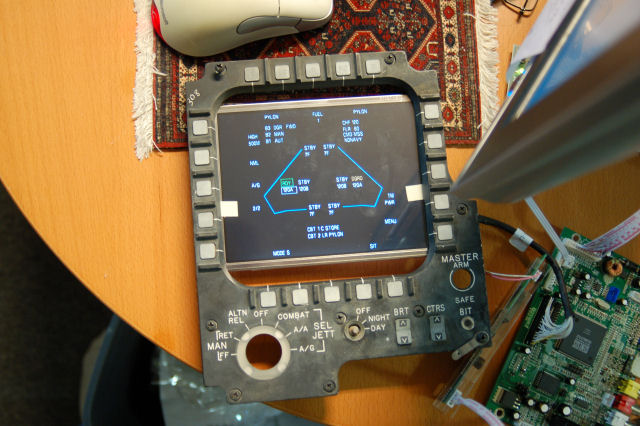 I rebuilt the MPCD that I have with a 7″ monochrome green VGA monitor.  Within a couple of months of that feat (it's not easy shoe-horning a "standard" CRT into the original enclosure!) I discovered that the MPCD is a COLOR display.  Cue facepalm.
You cannot buy a 7″ color VGA display for any amount of money.  I've tried.  Repeatedly.  For five years.  The original display is a 5″x5″ color vector tube and while I could find a replacement, they wanted $5000.00.  EACH.  Cue 2nd facepalm.
I finally found a 6.4″ LCD kit from Earth LCD to the tune of $350.  Painful, but no where near the pain of the original.
So what I'm doing is replacing a 1:1 aspect ratio display with a 4:3 aspect ratio display that "mostly" fits.  The important part of the real estate that the LCD covers is the 20 buttons that surround the frame.  With a little adjustment, it properly covers all the space that they "occupy" on the screen.  I'm going to place a layer of 1/16″ or 1/8″ smoked plexiglass between the LCD and the MPCD button collar.  When the unit is enclosed, no light will enter from the back and you won't notice there's a huge air gap above and below the LCD.
The original display had a resolution of 512×512.  At 640×480, I'll have the width I need, but I'll be short 32 pixels (shy 16 at the top and 16 at the bottom for all practical purposes).  This will make things a bit tight – there are some MPCD pages that are pretty dense, but I'm sure we'll get it figured out.
Comments