Here's the Radio Call plates: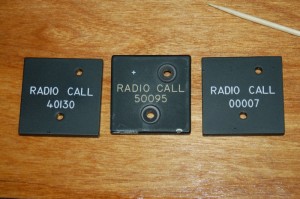 The font isn't exactly right, but it's all I've got to work with.  All the searches I've done for the right font only come up with the one that Derek Higgs did for the Simpits group in 2000.
Landing gear handle panels – I flipped one over so you can kind of see the pocket work done on the back side.  A tiny single-sided PCB with warm-white LEDs will light this up nicely (and make it a Type VII edge-lit panel)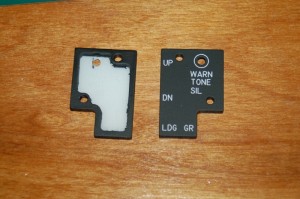 Here's what it looks like on the landing gear handle: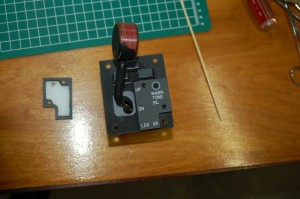 I don't have the right screws for this – #4-40 are very loose, #6-32 are too tight.  I'm not quite sure what the right screw is at this point. 🙂
Hopefully tomorrow I'll post pics of the replacement TEWS panel.
Comments