Last Saturday I took some time do de-pin the cannon plug in preparation for rebuilding the CAS panel.  This weekend I finally got around to getting that panel rebuilt and wired into the left side console harness.
Here's a few pics of the rebuilt panel assembly: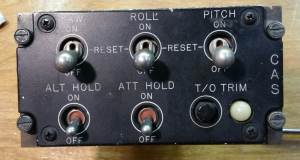 The CAS panel is interesting in that it's got a pair of magnetically held toggle switches.  It's essentially a relay that's designed with a very heavy spring to keep it open unless the coil is holding it closed.  Here's what one looks like:
Fingertip for scale. 🙂
At some point I'll post the little video I did that shows how the switch operates.
It turns out that I may have a pretty special CAS panel.  I noticed the manufacture date & serial number on the back of the edge-lit panel: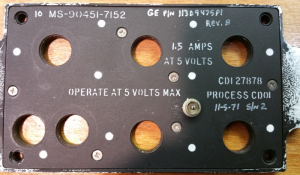 The date is November 5th, 1971 with a serial # of 2.  This makes me think that the panel may be from one of the original test articles that MD built, but I'm not sure.  I'll update this post if I find out more information.
Comments