This past week has seen some great progress on the panel front.
First up is the nearly completed IFF panel.  After breaking a few tools due to feeding too fast, I was finally able to get the parts for the IFF mounting plate cut:
The connector mounting plate is designed to accept the two DB25 connectors that are needed to wire up this panel.  The plate is connected to the main part by two 4″ hex standoffs.
Here are some pics of the connector plate being cut – the bit looks stopped, but is actually spinning at 6600 RPM.
The little tube with the white tip is a ball-inflator needle connected to an air-compressor.  It blows air at 90psi  on the cutter to keep it cool.  This works for small bits in lieu of using a flood coolant.  The downside is that there are little aluminum chips everywhere.
Here's what the main panel looks like with all the parts mounted: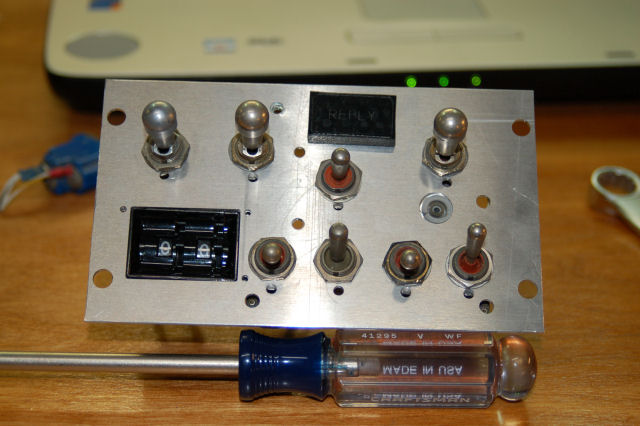 The three locking toggle switches are not the correct parts – the lock style is correct, but the bat handles are not.  You can see what the correct toggle switches look like in this post.  I'm going to hold off on final assembly for a little while to see if I can find the right switches.  The other issue is the fit for the rotary wheel switches.  It knocks up against the toggle switch next to it.  I've got a different unit that has a bit of a narrower profile that I'll be trying this week.
Here's what it looks like with the edge-lit panel installed: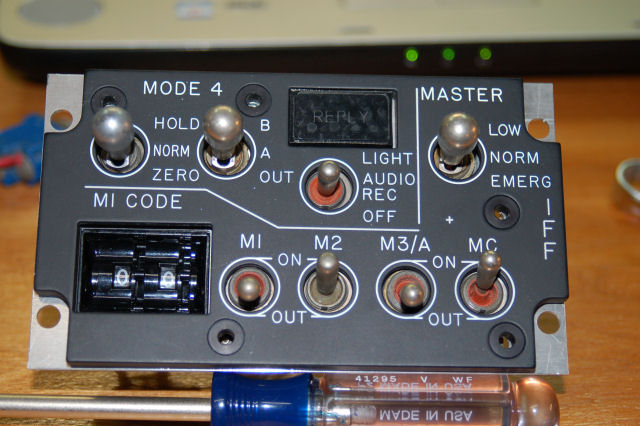 The REPLY indicator came out really nice.  There are some marks from the honeycomb grid in the laser, but they can be buffed out easily.
I also got the edge-lit panel for the EW (Electronic Warfare) completed, as well as it's mounting plate.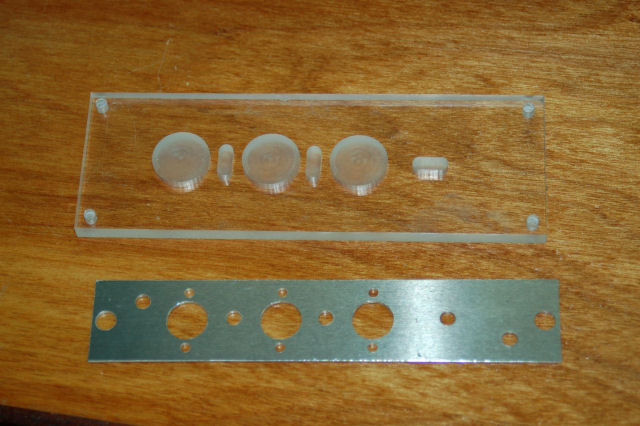 The picture above shows the edge-lit panel blank right off the 'bot.  I've cut pockets in the panel to accomodate the switch nuts and the LEDs that will be used for the internal lighting.  From here, the blank goes into the laser for final cutting: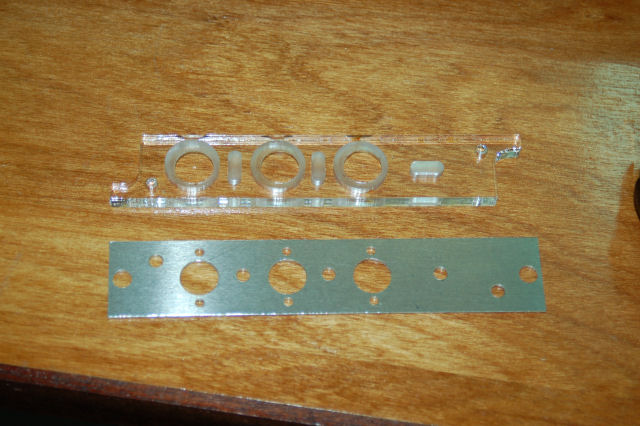 This is the panel right off the laser.  As you can see, the switch holes are a bit off center from the back pocketing.  This is due to a slight alignment issue between the ShopBot and the laser engraver that I haven't quite got sorted out yet.
Finally, here's the EW panel after final paint & lettering: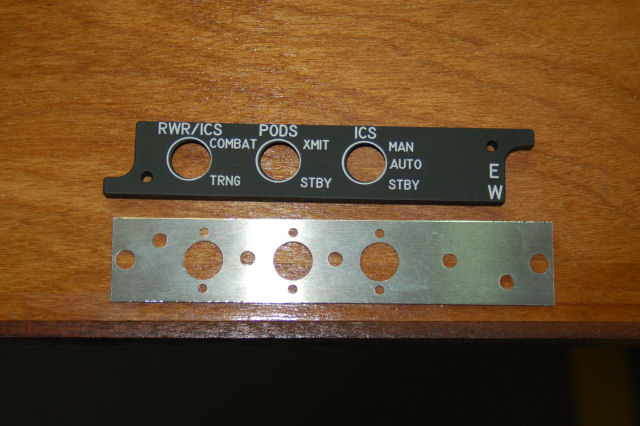 This panel uses three locking toggle switches that I don't yet have.  I'm hoping to find then in the next week or so.
Until next time…..
Comments